Want to Expand Your Business Quickly?
A constant flow of leads is essential to any network marketer, making a lead generation platform practically a necessity. The issue most network marketers face when searching for a lead generation platform is the cost involved; many of these platforms charge a hefty monthly fee, which can be burdensome for new marketers who are just getting started and may be on a tight budget.
The following lead generation platforms are some of the most affordable in the industry; some have a low monthly fee (all are under $40 per month), while others are just a one-time fee or even FREE to use forever! I chose these platforms because of their high reputations, longevity (they're all well-established), and overall value. ALL of the sites below also have built-in affiliate programs that allow you to grow additional streams of passive income alongside your primary business! After all, your downline will be needing these tools, as well!
I currently use or have used each of the platforms below, so if you have any questions, please comment below or contact me.
Here are my Top 5 Affordable Lead Generation Platforms for Network Marketers:
LeadsLeap
My #1 recommended lead generation platform for network marketers because of it's value. This all-in-one lead generation platform allows you to create email lists, capture pages, landing page, entire funnels, link trackers and rotators, get unlimited subscribers, and advertise to the LeadsLeap network of over 119K members for just $27 per month. They also have a free forever version. Share your funnels/pages with your team using share codes! NO other lead generation platform that I know of gives you marketing tools PLUS leads… let alone at this low rate!
Income Opportunity:
Earn recurring monthly commissions by referring LeadsLeap to your network! Free members earn 25% commissions and Pro members earn 50%! I am a PRO member and highly recommend it to all network & affiliate marketers. Start now by getting your FREE account!
Prosperity Marketing System
This simple, affordable lead generation system has been helping network marketers grow their businesses since 2009! Prosperity Marketing System is a downline builder program that allows you to get signups to your primary business by simply promoting your main funnel link. You can customize the downline builder with your recommended resources (leads sources, marketing tools, etc.) plus integrate the funnel with any autoresponder, email 5 levels of referrals, build custom splash pages, training modules, brand yourself, and more! It's a marketers dream for just $12 per month! 
Income Opportunity:
Earn 100% commissions with leverage (2nd and 4th sales passed up to sponsor) by promoting the funnel itself and sharing it with your network! This creates massive leveraged that grows on autopilot once you start sharing this platform with your team. Get started with a 7-day FREE Tour Taker account!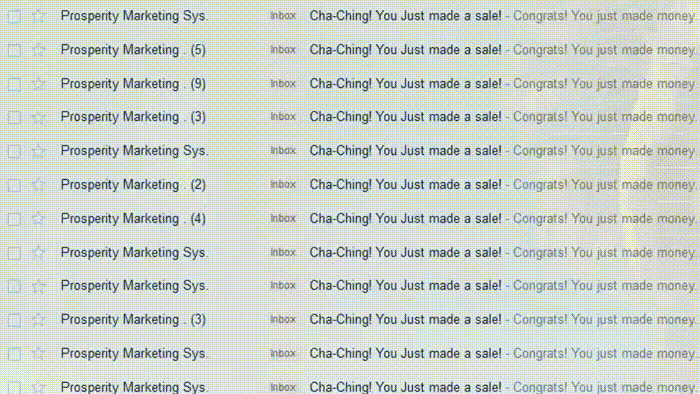 My Lead Gen Secret
Never run out of business opportunity seekers again with My Lead Gen Secret! For just $30 per month, you get 100 new leads in your account every single day on autopilot. The leads accumulate, so after one month you'll have 3,000 leads, continuing to grow your list the longer you remain a member! You can mail these leads every 23 hours using the built-in mailing system within your account, where you can also access your stats on each mailing! You can also export your leads and use them however you wish.
Income Opportunity:
Refer you team/downline to this platform and earn recurring income on 5 levels, plus double your leads to 200 per day once you refer just 1 paying member! My Lead Gen Secret also pays $100 bonuses for every 5 direct sales per week. No limits! This platform is a game-changer! Get started by joining My Lead Gen Secret (first month is $60, then $30 thereafter)
MLM Gateway
Over 360,000 network marketers are using a platform called MLM Gateway to generate leads and prospects! This platform is 100% free to join and use, allowing you to build and expand your business through connecting with other network marketers globally. You can promote your website on your profile, set up advertising campaigns on the platform, publish business announcements, and more! With the ability to connect with new prospects every day, your network marketing team can grow very quickly! There is an OPTIONAL paid version for $30 per month that unlocks premium features including more visibility to your profile, access to professionally designed lead capture pages, monthly credits for connecting with prospects, and more!
Income Opportunity:
Refer new members to MLM Gateway and earn up to 50% lifetime commissions from their purchases! On top of your affiliate commissions, you also receive monthly Cash Bonus and Luxury Car Lease Payment depending on your leadership level, which is determined by the number referrals with active Premium membership.  Get started by joining MLM Gateway for FREE!
MLM Recruit On Demand
One of the oldest and most trusted lead generation platform for network marketers, MLM Recruit On Demand offers a wide variety of must-have tools for this industry! Becoming a new member (P1) costs just $15 one-time, and you get 100 MLM leads, contact manager, training videos, scripts, autoresponder, personal lead capture pages, etc. Get UNLIMITED access to new 20 leads daily upon request as soon as you call the ones provided… for life! Never run out of leads again.
If you decide to upgrade to the P2 level, which is $100 one-time, you get 200 MLM leads and then unlimited access to 60 new leads per daily added to your account, upon request… forever! As you can see, massive value for such a low cost.
Income Opportunity:
All members have the ability to earn direct 100% instant commission from their referrals. P1 members earn $15 commissions and P2 members earn $100 AND $15 commissions. You choose how you want to get paid and then are responsible for marking your referrals as paid in your account. Get started by joining MLM Recruit On Demand for just $15!
Conclusion
I hope you found my list of top 5 affordable lead generation platforms for network marketers useful. If you have any questions about any of these platforms mentioned above, please email me at earnwithapril33@gmail.com.
Like this post? Get my free report…
If you'd like to learn about my top 7 fast-paying FREE affiliate programs paying out in a week or less, get my free report.
***Affiliate Disclosure***
I earn money by participating in affiliate programs. Many of the links on this blog www.passiveincomerising.com earn affiliate commissions. This means I earn money whenever you purchase a product that I link to. When you see links on this blog, please assume they are affiliate links. At the same time, I must say that my core goal is to always recommend useful and valuable resources and content that empowers and educates affiliate marketers to become financially free.
Please follow and like us: