Prosperity Marketing System Honest Review
Before I share my personal review of Prosperity Marketing System, I want to mention that this system is primarily a downline builder and explain what a downline builder is for those who don't know already. Anyone in referral marketing, whether network or affiliate marketing, is trying to obtain referrals to their programs. It could be a regular affiliate program or a MLM opportunity.
Downline builders allow internet marketers to add multiple affiliate links to a single system that's design to build your downline. Downline builders are essentially funnels designed for massive duplication, so instead of referring your prospects to 20 different affiliate links (your primary business along with your recommended marketing tools,  etc.), you can just provide one link (to the downline builder) and then they can join the programs you recommend all from a centralized location.
What Is Prosperity Marketing System?
Prosperity Marketing System is a unique downline builder created by Darren Olander in 2009. It's designed with YOU in mind. Per the website:
Prosperity Marketing is all about creating a well-oiled marketing system that does all of the selling, explaining, and training on auto-pilot. It's about doing marketing highly efficiently using the power of capture/splash pages, list building, auto-responder follow-up, personal branding, and other techniques that help build highly profitable businesses.
Unlike most downline builders, which typically only include the sites recommended by the admin/owner, Prosperity Marketing System allows for nearly total customization. This is huge because many downline builders I've joined in the past include sites I have no interest in joining, maybe just a few that I would consider joining. Furthermore, Prosperity Marketing System is also an income opportunity in itself, whereas many downline builders are free to join.
Isn't free better??
While it may seem like a good idea to have "free" downline builders, they make earning income difficult for the members of the site because they attract "freebie-seekers" who have no money to invest in your business or affiliate programs. Prosperity Marketing System is affordable for practically everyone at just $12 per month (after the 7-day free trial)!  This puts money into your pocket WHILE you build your favorite income streams!
Main Features Of Prosperity Marketing System
Quite frankly, after my 11 years in this industry, I have never seen so much value packed in a downline builder and I regret not joining sooner. Prosperity Marketing System goes beyond most online income systems and offers extensively more value than any high-ticket programs I've seen. It allows your team to totally duplicate your efforts, which is the key to earning massive income online. Below are the main features that make of Prosperity Marketing System:
Basic Step-By-Step Training
While most downline builder and online income programs assume that everyone is tech-savvy, not Prosperity Marketing System. You'll find even the most basic computer training along with internet basics for those who need more of the essentials. Then, the training goes into more depth on how downline builders work, traffic generation, list building, etc.
Customize With Your Programs
As a student ($12 per month) of Prosperity Marketing System, you'll have the ability to customize (add or remove) 15 affiliate programs. Unless you get the Owner add-on ($97 one-time), you will not have the ability to add your primary business of choice; you'll have to use the same primary business as your sponsor.
The $97 Owner add-on is commissionable! You will earn 100% of that when your referrals purchase the Owner add-on, whether or not you're an Owner.
This is a win-win because your referrals will either join YOUR primary business OR pay you $97 to add their own primary business! I am an Owner because it was a no-brainer for me.
Build Your Primary Business
Those who purchase the Owner add-on ($97 one-time fee) can plug in their primary business opportunity. This is very powerful for those involved in network marketing where duplication is essential to success. If you do NOT have a primary business, you can either use Prosperity Marketing System as your primary business OR join the one suggested by your sponsor.
Build Multiple Streams of Income
As a student, you can build multiple streams of income directly from within Prosperity Marketing System. You can add/remove 15 affiliate programs! As an Owner, you can customize the system even more and add your primary biz and create training pages, where you can put even more affiliate links.
Grow Your Own List
Since growing a list is so essential to affiliate marketers, Prosperity Marketing System integrates with major autoresponder platforms. This means when you promote your Prosperity Marketing System funnel, you're getting new subscribers on your own personal list whether or not they decide to join Prosperity Marketing System.
The following autoresponder platforms integrate with Prosperity Marketing System:
GetResponse (I use this because it's super easy to integrate and affiliate marketing-friendly)
Aweber
TrafficWave
iContact
GVO
MailChimp
Rocket Responder
MailerLite
Email 5 Levels of Referrals
I love this feature within Prosperity Marketing System! You can easily send an email to five levels of your referrals. This can be very powerful, especially if your team grows very large! If you don't wish to integrate a 3rd party autoresponder, you can simply use the built-in mailer to promote whatever you wish.
Create Custom Splash Pages
Included within Prosperity Marketing System is the Splash Page Builder tool. This is unheard of within other downline builders! You can create custom splash pages that capture leads, without needing to know HTML. They are hosted for free, easy to create.
Brand Yourself
Personal branding is built into Prosperity Marketing System. You can update your Personal Profile section with more about you, your business, and anything you want to add. There's also a place to add your website. This information is displayed to your referrals within the Prosperity Marketing System.
Earn 100% Commissions & Leveraged Income
At Prosperity Marketing System, you have the ability to earn 100% commissions from your referrals who stay past the free trial (Tour Taker) and become Students. You earn $12 per month per Student you refer, except your 2nd and 4th sign-ups. They get passed up to your sponsor. In return, YOUR referrals will have to pass up their 2nd and 4th sign-ups to YOU, thus creating leveraged income. The system handles this automatically, by the way!
You can also earn 100% commissions from the Owner add-ons. Whenever you referrals decide to get the owner add-on, you will earn $97. It doesn't matter if you're a Student with or without the Owner add-on yourself.
Commissions are paid between the 10th and 15th of each month using Bitcoin, Uphold, Skrill, Wise, or Zelle (if in the US). You can choose which is best for you and update that information within your account.
(see income proof below)
The video below explains the compensation plan with visuals, so it's easy to understand.
Affiliate Resources
As a Student, you'll have access to a wide variety of affiliate resources within your Prosperity Marketing System account. These include several different funnels to promote, email swipes, banner images of all shapes, and dozens of one-line attention grabbers.  Here's an example of a banner: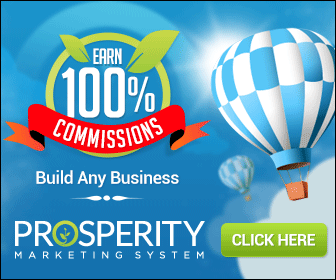 Tour-Taker Versus Student
Below you'll see a chart outlining what you get as a tour-taker versus a student. As you can see, you are very limited as a free tour-taker, but you can get a feel of the system. If you remain a Tour Taker after the 7-day trial, you will become a Student and be billed $12 per month automatically.
By the way, if you ever decide to cancel, there are no hassles or hurdles. You can easily cancel your membership with a click of a button and reactivate if you ever decide to.
My Conclusion & Final Thoughts
Prosperity Marketing System isn't perfect (there is no one perfect system), but it's one of the best ways to earn online if you're on a limited budget or appreciate the leveraged income opportunity. The fact that it's been around since 2009 is a big deal because so many sites are here today and gone next year. Prosperity Marketing System appears to be very stable and straightforward. The owner, Darren, is good at responding to support tickets in a timely manner, as well, which I appreciate.
Why Partner With Me?
There's a lot of people who would be thrilled to have you join under them, but I will help you personally through personal coaching over the phone or internet. As an Owner, I am dedicated to providing the best tools and resources that I have personally tested and believe in. I put hours of effort into creating the training inside of Prosperity Marketing System that only my referrals can access.
One of the training modules is about Virtual Freelancing, which is what I do to earn money from home outside of affiliate marketing. If you're struggling to earn money online or sick of your job, this section alone can be very helpful to you.
Like this post? Check these out…
✔️ Get my TOP 5 FREE Affiliate Marketing Tools I used to grow my online business from $0 to 4-figures per month on a shoe-string budget 
✔️ New to affiliate marketing? Start here and learn exactly how I got started and which free training platform I use and recommend.
➡️ Follow me on my social channels:
Twitter @earnwithapril
Instagram @passiveincomerising
Pinterest /passiveincomerising
Webtalk @april.dowling
***Affiliate Disclosure***
I earn money by participating in affiliate programs. Many of the links on this blog www.passiveincomerising.com earn affiliate commissions. This means I earn money whenever you purchase a product that I link to. When you see links on this blog, please assume they are affiliate links. At the same time, I must say that my core goal is to always recommend useful and valuable resources and content that empowers and educates affiliate marketers to become financially free.
Please follow and like us: